CREATIVE CURLER FOR PERM AND STYLING
Soft and fluid effect, S shaped tight curl and big spiral curl
The new and curler has just arrived!
Shirly has been studied to give to your locks a revolutionary shape: softly natural at the root, tightly S shaped in the middle and big spiralled at the end.
Shirly can be used in combination with any product:
• styling mousse, to obtain beautiful natural-looking locks and curls for your most romantic events,
• chemical (perm-liquid) for a long-lasting result.
PACKAGING

Shirly is presented in a transparent box, the box contains 25 curlers.
It is possible, however, to personalize the packaging.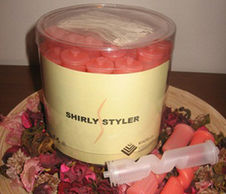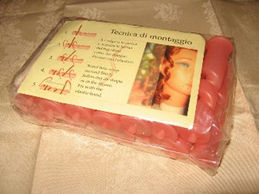 Put on the curler beginning from the end of the lock and from the brushed part of Shirly.
Turn the lock around the curler following the shape of Shirly
as on the figure.
Block the lock with the supplied elastic band.Follow perm procedure.